About Us
Your reliable partner in crop protection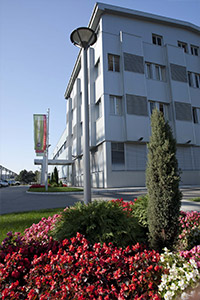 GALENIKA-FITOFARMACIJA a.d. is the largest domestic manufacturer (formulater) of plant protection products based on high quality generic active substances. We are leader in Serbian plant protection products market according to market share, the physical volume of production, as well as the production capacities and overall business infrastructure.
For more than half of a century we are committed to meeting the needs of agricultural producers. Expertise and dedication of our employees and high quality of our products are the basis for company's success which has fully adjusted its production range to specific market needs, as well as requirements of human health protection and environmental protection.
Our primary objective is to continue supplying Serbian agriculture with quality and safe plant protection products, as well as to improve our business in accordance with the highest standards in our field of operation.
Our strategic objective is regional expansion to the markets of surrounding countries that are within the EU.
We have been producing plant protection products since 1955.
From the mid 1960's we are situated at the same location as today - in industrial zone in Zemun, on site Batajnički drum bb.
Today we are the largest manufacturer of plant protection products in Serbia, therewith we have the most of individual market share in opened and competitive Serbian market.
Our reputation and current position is gained by consistent business policy that we put into effect, which is based on three basic principles:
SUSTAINABLE PRODUCT PORTFOLIO. Manufacturing portfolio is continuously adjusting to demands and needs of end-users, as well as to standards and legislatives that determine modern producing, traffic and usage of plant protection products. For a past few years, our development is based on active substances that are approved in European Union, as well as on other input components that are used in European countries.
MODERN TECHNOLOGY. We insure high quality of our products and their harmony with demands regarding environment preservation and establishment of optimal work conditions in producing processes by developing and applying modern formulating technologies. Manufacturing process of our products is fully automated thanks to modern, software driven producing equipment. Contemporary ERP system, based on ORACLE technology, gives us complete management in all our business processes.
RESPONSIBLE BUSINESS. Our business policy relies on responsibility towards the farmers, the employees, the business partners, but above all, to the community we live in, the environment and the citizens who get in touch with our products. Accountable business implicates efficient risk management, and they are numerous in our work activity, so we try to enforce the latest standards and technologies in every area of our business so we could achieve satisfying level of efficiency.